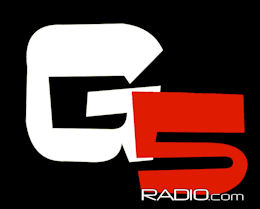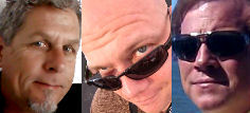 DONN DABNEY: This wirey, sometimes sleep depraved, over ambitious show founder burned through a slew of co-hosts to create the team that makes up the G5 Radio lineup so many have come to love today! Born in Los Angeles, Newport Beach raised and a singer in the Hollywood hairband scene in the 80's & 90's, this radio host is no stranger to the world of entertainment. Donn spends a considerable time in L.A. and Orange County yet is mostly here in Sonoma.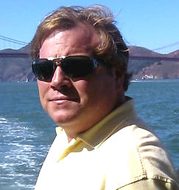 RICK MIRON: As a late night television host of "Tonight with Rick Miron", Rick brings an incredible level of fun and excitement to G5 Radio with his uncanny ability to make our celebrity guests feel so comfortable and welcome that they soon forget they're on the air and have been known to even "tell all". Rick has a great sense of humor and extensive knowledge of pop culture. His curiosity makes for some great interviews and his witty antics keep you fully engaged!

JAMIE WATERMAN: What can we say about radio host Jamie Waterman? How about "twisted" for starters, followed by a slew of other words not normally used to describe normal functional human beings or otherwise usable in civilized conversation. Jamie has worked through a variety of careers, from a computer geek to teaching martial arts to (as he puts it "now former so please don't ask me how to get out of a ticket") cop to financial services to media, he hopes to eventually transition into a career in writing screenplays. He and Donn have even come up with a concept He and Donn have even come up with a concept for a reality TV show that they hope to sell….after they both sell their souls. Rick & Donn often have a hard time containing themselves when Jamie's sense of humor comes out. Jamie's quick wit and lack of self-censorship often has him saying and doing things that would put Howard Stern to shame. A finger is always hovering precariously over the "dump" button when Jamie opens his mouth, and often eliciting the comment "Jamie's here!" from Rick or Donn. If Jamie says or does something you find offensive, please feel free to send a complaint to G5 Radio addressed to his mother. She'll most likely tell you to "f*ck off" just like Jamie would, but then again you never know what might happen. He might finally get that much-deserved spanking (which he would probably enjoy anyway.)

JASON GHILSELIN (Producer):"Ideas, opinions and advice on Wine Country retail, hospitality and events" is a tag-line I use. I worked in the hospitality/retail side of a Sonoma Valley tasting room for 15 years…doing everything from setting up chairs for concerts to managing inventory, writing newsletters to implimenting new retail point-of-sale systems. I have a knack for looking at the big picture results needed and resources available, and creating the systems and processes to extract those results.
..
Catch their show at the following times (PST):
FRIDAYS @ 5PM TO 7PM "LIVE AIRDATE"
SATURDAYS @ 9PM TO 11PM "CURRENT REPLAY"
SUNDAYS @ 6PM TO 8PM "CURRENT REPLAY"
TUESDAYS @ 2PM TO 4PM "CURRENT REPLAY"
THURSDAYS @ 1PM TO 3PM "ARCHIVE REPLAY"
VISIT THEIR SITE
G5Radio
http://g5radio.com/
G5 Radio welcomes Pulitzer Prize winning author, T. J. Stiles. He is a is a
biographer who lives in San Francisco, California. His most recent book, The First
…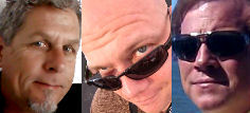 [nearby-events category="celebrities,movies,wine,entertainment" results="35″]

Like G5 Radio on Facebook –

G5 Radio | Facebook
https://www.facebook.com/pages/G5-Radio/160051427346064
G5 Radio. 467 likes · 19 talking about this. Donn Dabney, Jamie Waterman, and
Rick Miron come together weekly to provide entertainment and excitement!

Check out the crew interviewing Jamie Waterman on World Disclosure Day

G5 RADIO SHOW hosted by JAMIE WATERMAN w/ STEPHEN …
http://vimeo.com/26349890
Jul 12, 2011 … Activist/lobbyist Stephen Bassett discussed about WORLD DISCLOSURE DAY
with Jamie Waterman. http://www.paradigmresearchgroup.org.