RSN Presents:

DJ Juanito
Orgin

SF/Oakland Bay Area

Links

email

Genres
Juan (DJ Juanito) Lopez
Music Director (MD) – DJ Juanito 24/7 @ RadioSlot.com
Dj Juanito's personal websites

​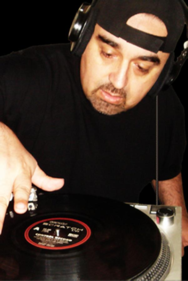 Hailing from the San Francisco / Oakland Bay Area *DJ Juanito* has been spinning and producing records for years. He strikes again with a new Electro-pop HIT single "*CAN'T LET YOU GO.*" DJ Juanito is Owner/Operator of the 1st House label on the West Coast *Groove Nation Records* established 1992 in Hollywood. CA. and is best known for making music history by writing and producing Universal Records first release ever called "*FEELS SO GOOD*"' in 1996 and producing the International Club Classic "*A MOVER LA COLITA*" released through Scotti Brothers / BMG.
PRESENT:He is welcomed as the DJ Director for RadioSlot.com He will use his magic to feature the best DJ Personalities around. He is working on some hot new tracks and will prove to be an explosive return to the dance music scene of 2014!
MUSIC STYLE: From House to Deep House to Techno to Dance to Latin to Hip Hop and in between.
PRODUCTION: After 25 years of music production experience DJ Juanito continues re-inventing his style as he makes yet another statement with his new electrofying dance single Can't let Go!
SHOWS:
The Groove Nation Show
The Groove Nation Show will have the best DJs around spinning your favorite House Tracks. Look for The Groove Nation Show on Saturdays from 1pm to 4pm and a re-broadcast from 1am to 4am.
DJ Juanito's Old School Mega Mix Show
The Old School Mega Mix Show features DJ Juanito spinning your favorite Old School, Freestyle, Funk, Dance and More! Join DJ Juanito and friends Fridays 6pm to 9pm.
Licensed To Chill
Look for this show starting soon and will feature Dj Juanito with the Chill Mix for your Sunday afternoon. He will have special guest DJ's putting that chilled mix into your day of rest. Look for Licensed To Chill on Sundays 12 to 6pm.
PICTURES